Congratulations, you're now an UPDESK affiliate partner!
This guide is intended to provide you everything you want to know about UPDESK and how to best leverage your affiliate status to generate cash that goes straight into your pocket.
Payouts
UPDESK will pay affiliates on their commissions for the previous calendar month prior to the 15th of the following month. (ie - commissions earned from sales from June 1st - 30th would be paid on or before July 15th). These commissions will be paid via Paypal to the email address that you used when you originally registered.
Your commission amount each month is based on how many of your audience members click on your unique UPDESK link and purchase a product (or products) on UPDESK.com. The average UPDESK order is around $850 each, so you will get out what you put into it!

All products listed on updesk.com at any given time are eligible for referral status (unless otherwise discussed prior to signing up to become an affiliate).
Affiliate status may be revoked at any time with or without cause.
---
How to use your affiliate link
When promoting UPDESK, use your uniquely generated affiliate link on all public-facing places (ie. your website, YouTube video descriptions, social copy, etc):
Your unique affiliate link will look something like this:
https://updesk.com/?rfsn=9####3.6b3##4&utm_source=refersion
&utm_medium=affiliate&utm_campaign=9####3.6b3##4
You can use the affiliate URL parameter on any UPDESK.com URL if you want to drive your audience towards a specific product or page:
https://updesk.com/easyup/?rfsn=9####3.6b3##4
&utm_source=refersion&utm_medium=affiliate
&utm_campaign=9####3.6b3##4
ie. Spinal Cord Cable Managment Accessory
https://updesk.com/products/spinal-cord-cable-management/
?rfsn=9####3.6b3##4&utm_source=refersion&utm_medium=affiliate
&utm_campaign=9####3.6b3##4
ie. UPDESK Pro Collection
https://updesk.com/collections/pro/?rfsn=9####3.6b3##4
&utm_source=refersion&utm_medium=affiliate
&utm_campaign=9####3.6b3##4
Do not use URL link shorteners (like bit.ly) to hide these URLs as this prevents our ability to backlink to your website and could interfere with the tracking abilities of the link. You are able to hyperlink the URL using anchor text if you'd like.
---
How to promote your UPDESK affiliate partnership
What you do with your UPDESK affiliate status is entirely up to you - you will get out of it what you put into it. This guide will serve as a quick reference of our brand guide to ensure that you are best representing UPDESK and its products.
Brand Guidelines
Always represent UPDESK with all capitalized lettering (not UpDesk)
The UPDESK logo is intended to be only white on black or black on white. No other background or foreground colors will be permitted.
 
Approved Logos
Ensure that the logo is effectively readable and is not too small to be legible.

If creating your own images for your website, here are the appropriate color hex codes:
Black - #000000
Gray - #EDEDEB
Orange (accents) - #FB5520
 
Approved UPDESK Home Photos
Approved UPDESK Pro Photos
Approved UPDESK Pro UpWrite Photos
Approved UPDESK Pro SquaredUp Photos
---
Talking Points & Campaign Suggestions
Everything below is suggested and approved copy that you are able to use (and be influenced by) freely in marketing promotions related to UPDESK.
About
"UPDESK is one of the leading manufacturers of height adjustable standing desks and accessories based out of Nashville, Tennessee. They're not the cheapest standing desk out there, but there's a good reason for that. They pride themselves on using quality materials and having amazing customer service, whether you need 1 standing desk or 1,000, and whether for your home or your business."
Key Points
Pay over time - Easy financing options up to 36 months using Affirm
Free shipping site wide - Everything on UPDESK.com ships completely free
30-day money back guarantee - If you don't like your desk, we'll take it back. We'll even cover the return shipping. Simple as that.
Up to 7-year warranty - We stand by our products, which is why we offer some of the strongest warranties in the business.
Bulk Order Discounts - Whether you need 1 or 1,000 desks, UPDESK has your back with volume discounts.
Suggested Social Copy
I'm now a proud partner with @UPDESK! They provide some of the best quality standing desks for the money. [LINK]
.@UPDESK makes some of the best height adjustable desks out there. See for yourself why I've partnered with them for all things standing desks: [LINK]
Feel free to create your own copy if you'd like. Keep the tone positive and informative. Be sure to tag our social profiles directly in your post so that we can return the love back to you by means of sharing/retweets/etc.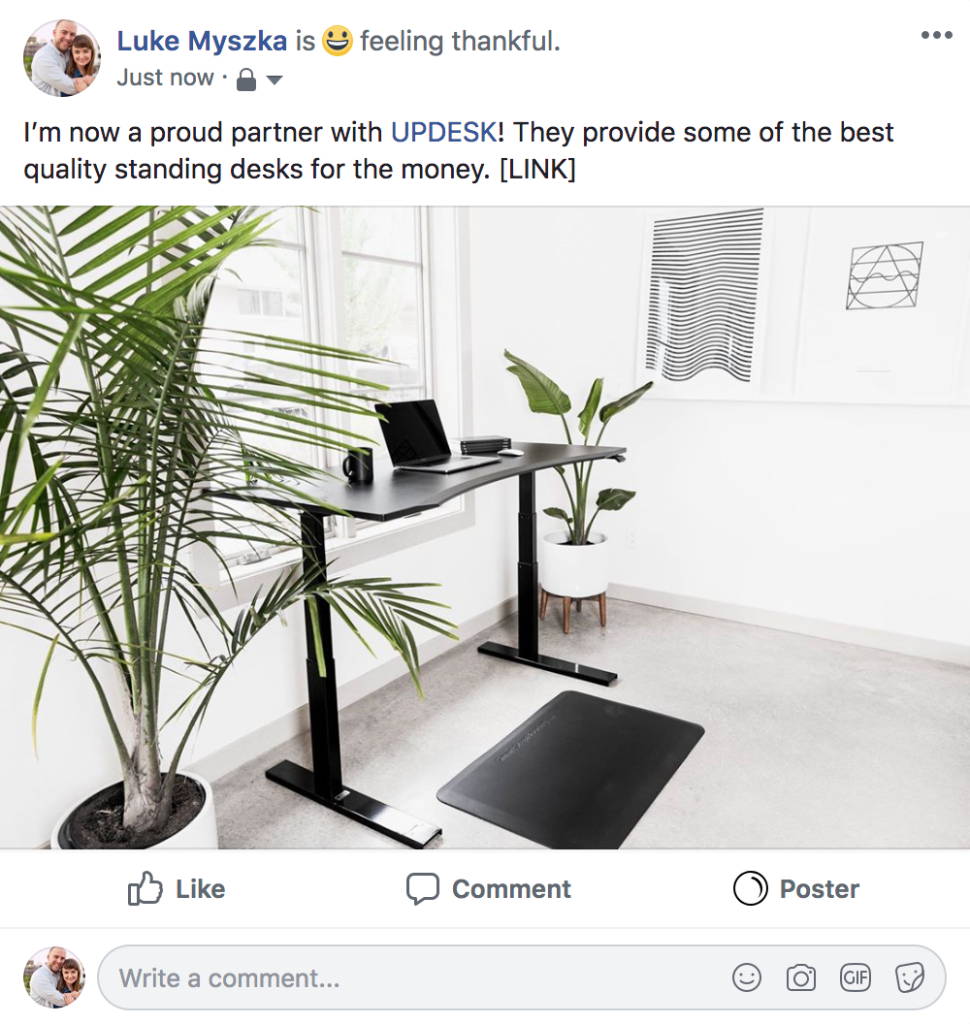 If you ever have any questions regarding your affiliate status or just want to say hey, email us at whatsup@updesk.com. We're here for you and want to see you succeed in all areas of your operations. Let us know how we can improve!